Rachael Ray is
currently under fire
for filming a Dunkin Donuts commercial in which she wears a scarf that has been called "offensive."
Oh, here she is: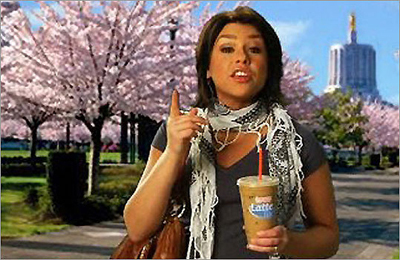 (Yes, that is the Oregon State Capital building in the background.)
You know what? I totally agree.
How dare you Rachael Ray??
How dare you wear a similar scarf on April 12, 2008 on an episode of your show?
How dare you wear
another
scarf on April 23, 2008 of your show?
Oh, is that not what people are offended about?

They should be.

Frankly, I'm not sure which is worse, the fact that she wore so many ugly scarves, or that fact that I noticed it, looked through all her old TV episodes to find the evidence and now feel vindicated.