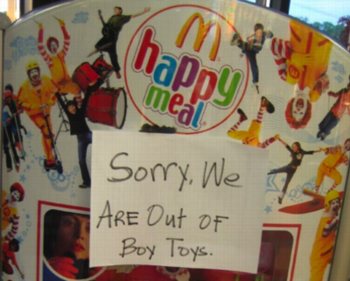 Image lovingly added from Daddy Types
I do it at
Burgerville
all the time. I did it just the other day at
FOTM
. I even did it at Subway last week.
I ordered myself a kid's meal.
I used to get blinks and stares from the cashiers. I've even had people refuse to let me buy one. But either 1) people don't care anymore, 2) I've reached an age when people assume that I have children with me or 3)people don't care anymore.
(Yes, I know I wrote that one two times, it's because that is the one I am voting for.)
I often can't finish an entire meal, or just want a taste of things. I usually order a salad to round out my meal, sometimes even get the milk or apple slices that come with the meal. If there is a toy that comes with the meal, it usually stinks, but I have gotten some good ones, including Burgerville bowls that I use
constantly
.
So, if that adult sized meal is just too much food to eat, try out a kid's meal.
Don't worry, I'm not laughing at you, I'm laughing with you.