I come from a long line of readers and happily visit the library at least once a week to get a new stash. On my way out the door recently I happened to see a book about books one should read. I was a little hazy from the allergy medication so I didn't pay much attention, but apparently I stored it away in my brain. Later on in the month when I was out of books to read (panic!!), I realized that the book I saw in the display might help me out.
Now, if only I could remember it's name ... "Book" and something naughty.
Bookslut
? Well, that is a online site that reviews books but I don't think it's what I saw. Hmm ... maybe if I rearrange the SLUT ... ah yes! LUST.
Book Lust
(or
More Book Lust
, to be exact).
Book Lust
and
More Book Lust
are books written by Seattle Librarian
Nancy Pearl
. Each has over 1,000 suggestions for any kind of reading you might be interested in. While I appreciate learning about
new to me
books, it is also fun to see familiar names. And in this case, to learn the name of one I fondly remember from grade school:
The Twenty One Balloons
by William Pene du Bois. Remember Krakatoa?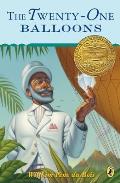 I've already added about 10 books to my library queue and I look forward to reading more. Crisis averted!
NOTE
: Ok, technically my loving (and patient) husband searched for and found
More Book Lust
for me in the library with my oh so helpful hints of "it's about books" "it has the word book in it" and "something naughty" while I stood there and whined/complained about not feeling good/wanting to go home/being hot/hating people/being hungry/that my head hurt. But I did realize in the car that you can rearrange SLUT and get LUST, so that totally counts.